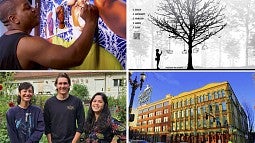 Clockwise from top left: A screen capture Kehinde Wiley: An Economy of Grace, the documentary the Art History Student Association will screen; the design for the project 'Birdhouse with a Message'; the White Stag Block in Portland, site of the 'Dear White Stag' project; and ASLA students Masayo Simon, Stephen Lorber, and Taylor Bowden, who are creating an equity toolkit for the Landscape Architecture department 
The College of Design Equity and Inclusion Committee has granted Equity and Justice Student Organization mini grants to four student teams who submitted project proposals that respond to the issues of COVID-19 and equity and inclusion.
Gerardo Sandoval, the College of Design Equity and Justice Faculty Fellow (and School of Planning, Public Policy and Management Professor), said the college wanted to provide an equity and inclusion initiative specifically for students, in addition to the faculty and research initiatives such as the School for Architecture & Environment's Design for Spatial Justice and PPPM's Access and Equity Research Group. Students will work on their projects throughout the year.
"Students' creativity and motivation for working on equity and justice issues can serve as an inspiration for all of us in the college who want to engage in this important work," Sandoval said.
Grants in the amount of $2,500 each—provided by Equity & Justice faculty fellowship funds and the Keane Family Endowment Fund for Design—went to the following student teams across the college:
Thinking Through Equity and Justice in Art History: A Reading Group
The Art History Students Association (AHSA) will host a monthly reading and film screening group for undergraduate and graduate students interested in art history to discuss how the field can be used as a vehicle to bring more attention to COVID-19 and equity and justice issues. The group currently consists of about 30 members. "The current COVID-19 pandemic and Black Lives Matter movements have encouraged us to rethink the role of the visual arts in creating a more equitable society, revealing AHSA's ability to facilitate healing and discussion amidst and post trauma," wrote the student association. On the proposed reading and screening list are the books Painting in Florence and Siena After the Black Death and Art for Equality: The NAACP's Cultural Campaign for Civil Rights and the documentary Kehinde Wiley: An Economy of Grace. For more information, visit the group page or contact the group at oregonaha@gmail.com.
Dear White Stag
The Portland-based student organization Dear White Stag proposes a project to build a public platform outside the White Stag Block at the Portland campus that engages students and community members in the Old Town and Chinatown neighborhoods at a time when many are struggling with the lack of social interaction due to COVID-19. "We propose to develop a set of spatial design strategies for the safe occupation and enhancement of public spaces around our urban campus, ultimately changing the civic space to foster healthier relations between all its inhabitants," architecture graduate students Josymar Rodriguez and Matthew Stoll wrote in their application. Stoll added, "The White Stag Block at times feels isolated from its surroundings. How can we bridge the outer community and the school community?" Dear White Stag is looking for more students to get involved; for more information find @dearwhitestag on Instagram.
Developing an Equity Toolkit for the Landscape Architecture Department
Landscape architecture graduate students Masayo Simon, Taylor Bowden, and Stephen Lorber —via the UO American Society of Landscape Architects—will develop a toolkit that was catalyzed by the issues of structural inequity raised again by the police killing of George Floyd and the pandemic. The student group developed the idea after several zoom sessions with landscape architecture students, faculty, alumni, and professionals in the wake of Floyd's death. The toolkit will focus on three areas: curriculum development, skill building, and outreach. "Through that first [zoom] conversation, everyone realized that landscape architecture as a field contributes to a lot of development practices that a lot of people feel need to change," Simon said. "The Black Lives Matter movement has allowed everyone to start being critical of these institutions," added Bowden. "As a department, we realize that we have been missing a lot of narratives in Landscape Architecture discussions." The team encourages students from the Department of Landscape Architecture to get involved with the process; Find them on Instagram at @asla.uoregon or email them at tbowden@uoregon.eu and slorber@uoregon.edu.
Birdhouse with a Message
Undergraduate architecture students Adam Abusukheila and Joshua Fox propose an interactive outdoor birdhouse installation where community members can help construct birdhouses and leave anonymous notes to memorialize "the emotions, circumstances, and changes we've experienced in 2020." With the Oregon chapter of Freedom by Design—a non-profit design-build program within the American Institute of Architecture Students—the student team will develop three birdhouse design templates and then host a birdhouse workshop with the community. Participants will be encouraged to place personal memos in the birdhouses, which will then be compiled in a database digitally stored on a website that could be accessed through a shared QR code. "This gives the individual a safe place to store their experiences with COVID-19, the Black Lives Matter movement, and other unprecedented experiences faced in 2020 so far," Abusukheila wrote in the application.