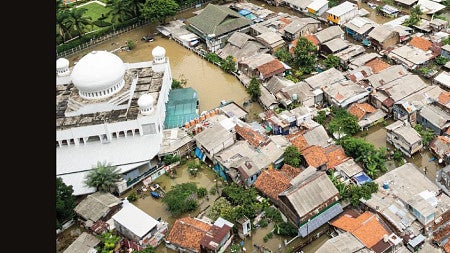 The Routledge Handbook of Sustainable Cities and Landscapes in the Pacific Rim, a culmination of a multiyear collaboration project between numerous universities including faculty and staff from the University of Oregon's College of Design, was published on March 16, 2022. School of Planning, Public Policy, and Management (PPPM) associate professor Yizhao Yang led this initiative with Anne Taufen of the University of Washington as co-editors of this handbook.
With an unpredictable climate future, the handbook emphasizes place-based approaches and collaborative, context-specific policies that are specific to the areas where they are being implemented.
Featuring over 60 case studies, this new handbook addresses challenges faced by regions and cities in the Pacific Rim with fundamental sustainable development policies and planning practices. The connection between cities and surrounding landscapes, the persistence of environmental and development inequities, and the growing impacts of global climate change are a few concepts covered by the text.
The 64 chapters were contributed by 128 authors from 38 institutions across the Pacific Rim and features associate professor Yekang Ko, professor emeritus Bart Johnson, and professor Rob Ribe from the College of Design's Landscape Architecture program; professor Marc Schlossberg and associate professor Rebecca Lewis of PPPM; Landscape Architecture doctoral students Tom Fiorelli, PhD '23, and Yeongseo Yu, PhD '24; and UO Environmental Initiative executive director and Clayton R. Hess Professor of Law Adell Amos as book chapter authors. 
While the robust handbook offers rich teaching materials for classes focusing on sustainable cities and landscapes in fields of urban planning, landscape architecture, and public administration, its primary target audiences are policymakers, public professionals, elected leaders, local officials, regional stakeholders, and anyone interested in the unique challenges a community will face in an uncertain climate future.
The handbook connects the academic and policy communities by illustrating the potential for professional development that is scientifically based, integrated across disciplines, and practical for implementation.
The Routledge Handbook of Sustainable Cities and Landscapes in the Pacific Rim is available for purchase on the Routledge website.
This handbook project is a research outcome of the APRU Sustainable Cities and Landscapes (SCL) Hub, a UO-led international research network under the auspices of the Association of Pacific Rim Universities (APRU). The university is a member of APRU and the SCL Hub is co-housed in UO Global Studies Institute and College of Design, with associate professor Yekang Ko serving as director and professor emeritus Bart Johnson serving as the steering committee chair.
The recent APRU SCL webinar series showcases highlights from the handbook and all the recordings can be found online.