On a cold January morning, University of Oregon (UO) alumna Emily Lawhead, PhD '22, was excited. Shortly after becoming one of the first new PhD graduates from the Department of the History of Art and Architecture's (HAA) revived doctoral program, Lawhead learned that she was being offered an associate curator position at the Utah Museum of Fine Art, a dream come true for the Oregon Design Duck (ODDuck). Lawhead points to her time with the supportive HAA faculty and the JSMA as the pieces that helped land the coveted position.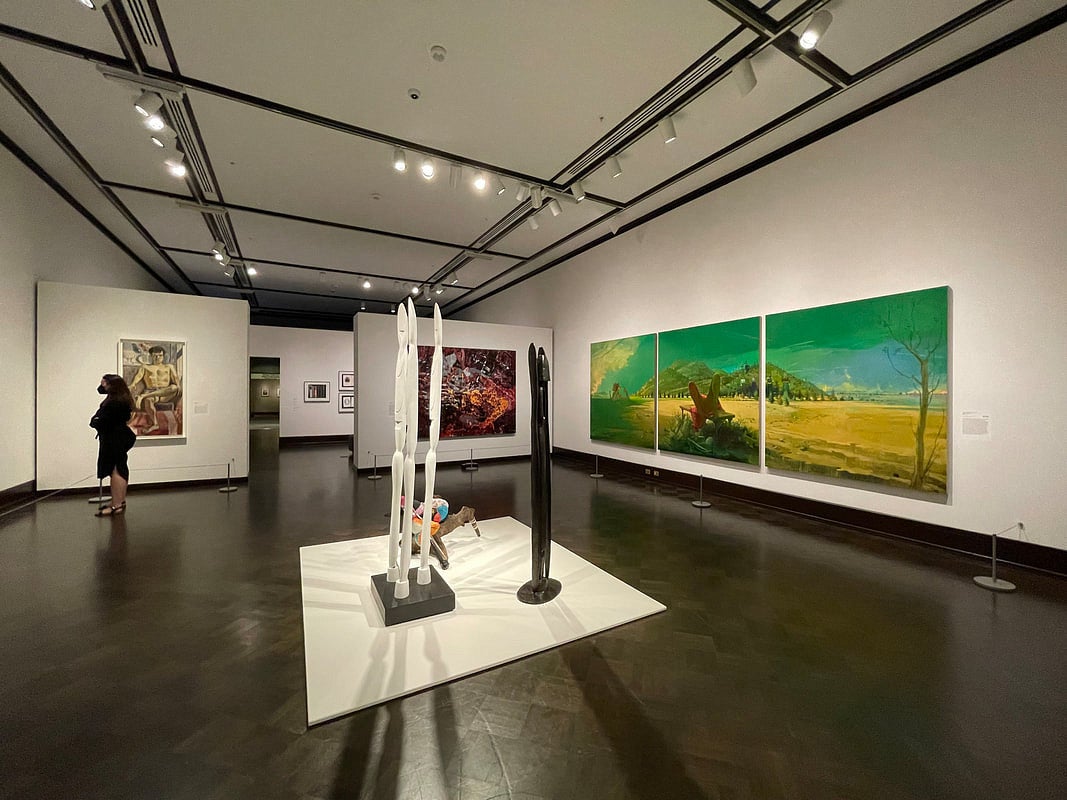 Photograph of the Shared Visions Program, courtesy of Emily Lawhead
"The HAA faculty was very supportive of my career goals," explained Lawhead. "[Professor] Mondloch and [Professor] Akiko Walley were especially supportive. I came in with the intention of pursuing a career in museums (which is still a little unusual for PhD students in art history programs) and they both supported my academic decisions to set myself up for that career. I had already held internships or positions at the NAU Art Museum and Coconino Center for the Arts in Flagstaff, AZ; the National Japanese American Historical Society and the Contemporary Jewish Museum in San Francisco, CA;  and the Buffalo AKG Art Museum in Buffalo, NY, so I came to the program with years of museum experience. In 2021, I started working with John Weber, Executive Director of the JSMA, as a curatorial assistant for the Shared Visions collection. His mentorship and support of my work was instrumental in my experience at UO that led me to this position."  
Originally from Northern Arizona, Lawhead earned a bachelors of art in Comparative Cultural Studies at Northern Arizona University and then earned her masters of arts in Museum Studies from the University of San Francisco. Her work and studies eventually led her to the College of Design and our flock of ODDucks. The department's reputation for specializing in contemporary and Asian art and the expert faculty further reinforced the feeling that Lawhead was in the right place.
"I applied to UO's HAA program for a few different reasons. For one, I wanted to work with [Professor] Kate Mondloch. She has done some great research on installation and new media art, which is my own research focus," said Lawhead. "I was also interested in the New Media & Culture Certificate program at UO as a way to meld my interdisciplinary interests in art, technology, and media cultures. The Jordan Schnitzer Museum of Art was another factor - not only does its Shared Visions program bring in amazing modern and contemporary masterworks, but the collection itself was founded with an East Asian focus. My earlier background at NAU was in Asian studies and Japanese art history and I was really interested in continuing this research interest through the JSMA's collection."
In the summer of 2022, Lawhead graduated with a PhD in contemporary art and new media. Her minor field of study was modern and contemporary Japanese art and she the first PhD cohort for the department since the program's revival. Her time at the UO and in the department was impactful on the faculty, with many proud faculty celebrating her new position.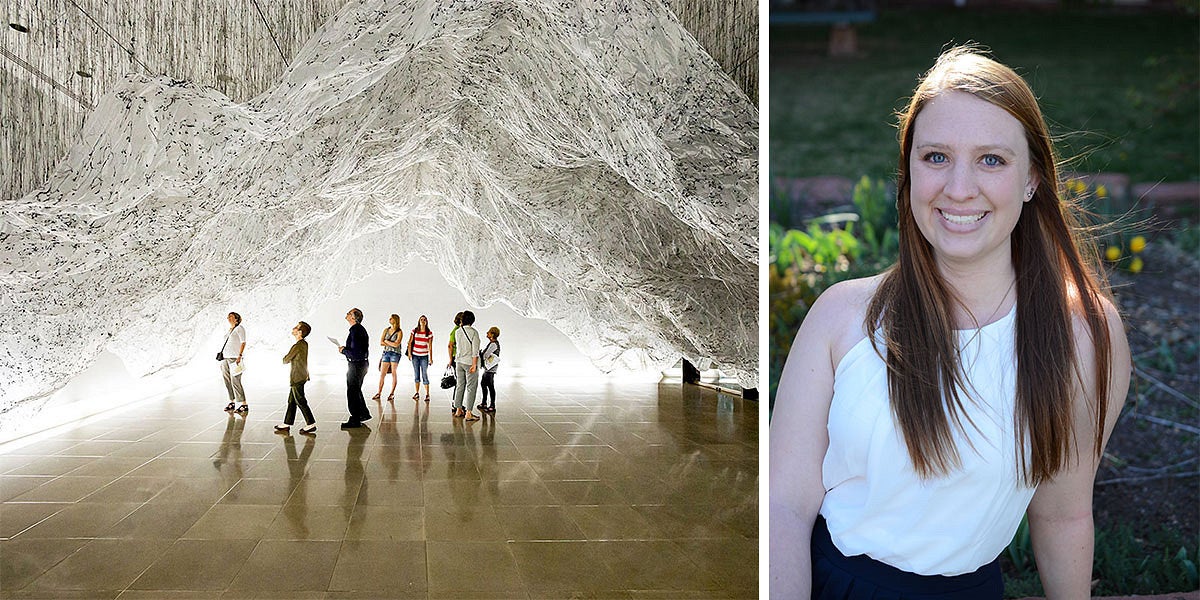 Yasuaki Onishi's 'Reverse of Volume RG' (2012) and PhD graduate Emily Lawhead
"I know I speak on behalf of the whole department when I say we're very proud of all that [she's] accomplished and wish [Emily] all the best in [her] exciting new career," said Kate Mondloch, Professor of Contemporary Art History and Theory at HAA and Faculty in Residence at Clark Honors College. 
Lawhead had a unique educational experience, learning in the middle of a pandemic but Lawhead and HAA faculty were up for the challenge. Now, Lawhead is both the first in her family to pursue a PhD, and the first cohort graduate for the revived HAA PhD program. 
---
Learn More
Read about which artwork changed Lawhead's life.
Read Lawhead's essay for Arts Japan.