Artwork by Tannaz Farsi
The Bonnie Bronson Fund has named the School of Art + Design's Associate Professor of Art Tannaz Farsi as the 28th annual Bonnie Bronson Fellow. The prestigious fellowship fosters artists based in the Pacific Northwest.
The fellowship comes with a "no-strings-attached" $10,000 award. The Bonnie Bronson Fund also purchases an artwork from each fellow to add to its collection at Reed College. Past fellows include big names in the Oregon (and national) art world such as Marie Watt and Lucinda Parker.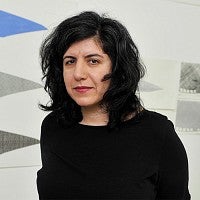 Farsi, who has taught in the Department of Art at the College of Design since 2008, is a multimedia artist whose work in sculpture, photography, drawing, printmaking, and digital media investigates the complexities of colonial legacies. She uses mediums and forms that are familiar—such as fluorescent lights, cinder blocks, and text—to explore fragmentation, structural blindness, and individual agency. Farsi was born in Iran.
In 2014, she was named a Hallie Ford fellow. In September, Willamette University's Hallie Ford Museum of Art will open a show featuring the artwork of 13 fellows, including pieces from Farsi's Strata of Empire collection.
Read more about Farsi and the fellowship in the Oregon Arts Commission's Visual Arts Ecology Project.