Liam Maher
Art Historian. Scholar-Activist. Violinist.
Liam Maher
Art Historian. Scholar-Activist. Violinist.
Maher models on the UO Memorial Quad for a landscape architecture and fashion seminar's 'Plastic Project Runway Show'
A Portrait of the Art Historian as a Young Man
When Liam Maher boarded a train from South Bend, Indiana, to Chicago to see the 2017 exhibition Hélio Oiticica: To Organize Delirium he didn't know it would change the trajectory of his life.
Now a master's student in the History of Art and Architecture department (HAA), Maher was then an undergraduate at the University of Notre Dame, where he was a double major in art history and political science (fun fact: he interned for then-mayor of South Bend, Pete Buttigieg).
Maher's art history professor at Notre Dame had encouraged her students to attend the exhibition at the Art Institute of Chicago featuring the Brazilian artist, an artist who wore many hats from the 1955 to 1980: as performance and installation artist, sculptor and painter, theorist and activist, and openly gay man.
"It was a solo trip. I went up and didn't know what to expect," Maher recalled. "I remember walking through and being really captivated by what I saw, and not being able to put into words why it stuck with me, but really feeling aware of myself in a very different way. I knew I wanted to get to a point where I could come back to it and understand it better."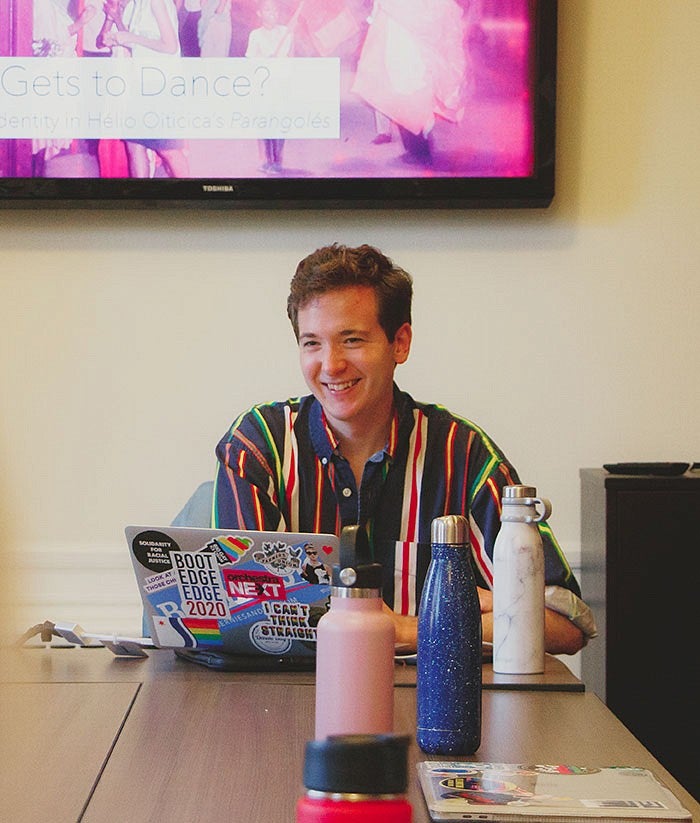 Maher giving a presentation on Hélio Oiticica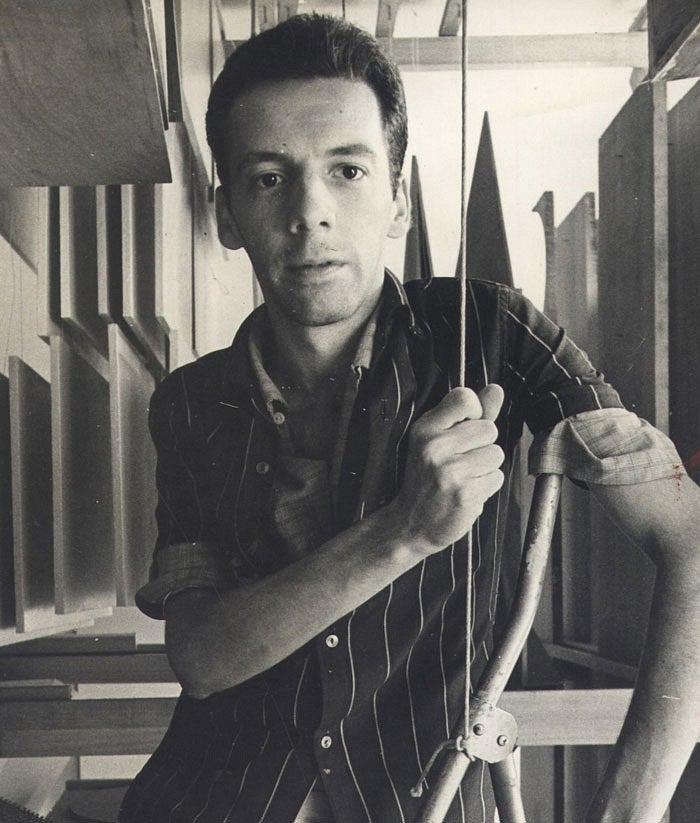 A portrait of Hélio Oiticica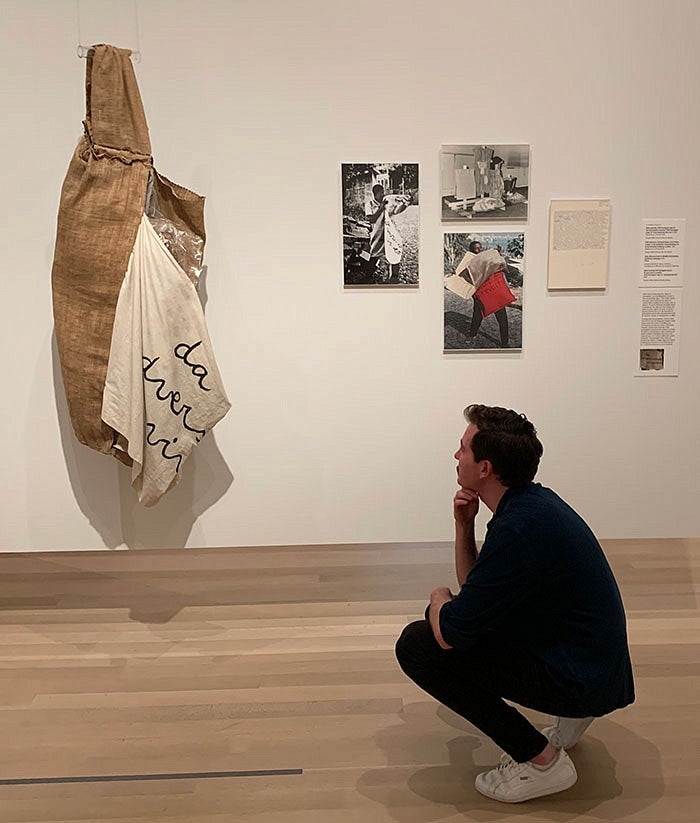 Liam Maher with Oiticica's 'P16 Parangolé Cape 12' at the Museum of Modern Art's Sur Moderno: Journeys of Abstraction in December 2019
Choosing a Thesis: Returning to Oiticica
Three years later, at the College of Design, Maher decided to focus on Oiticica for his master's thesis, working with HAA Professor Kate Mondloch as an adviser.
During his graduate studies, Maher has also been a graduate research assistant for the UO Libraries and the Jordan Schnitzer Museum of Art (made possible by an Andrew A. Mellon Foundation grant), where he helped digitize collections including The Artful Fabric of Collecting, Yōkai Senjafuda, and The March on Washington, 1963. Maher is a recipient of the Gloria Tovar Lee Scholarship for Most Promising Student in Art History, and he is the Vice President of the UO Art History Student Association.
And when Maher isn't researching Oiticica or teaching, he's playing violin, a passion of his for the past 15 years. "Last year, I was actually hired to play a string quartet for a festival at Carnegie Hall!" Maher said.
With his thesis, Maher wants to offer a radical alternative to the narrative that art historians and critics have crafted for Oiticica—one that confines the artist to the political upheaval of his time and place in Brazil (namely the military coup of 1964 and the government oppression that followed)—and as a sort of token of "Brazilian" art.
In 2019, the HAA awarded Maher the Raymond Bates Scholarship, which sponsored his research trip during winter break to travel to see the Sur Moderno: Journeys of Abstraction exhibition at the Museum of Modern Art in New York. Several of Oiticica's works were on view.
"His art does not get shown often, especially in the U.S., so it was truly a one-in-a-million chance that this show would open right when I was in the middle of working through his oeuvre," Maher explained. "Perhaps the most exciting thing I saw was a letter from the MoMA archives written by Oiticica for an exhibition catalogue in 1970. In the letter, Oiticica critiques the essentialist interpretations of his art as authentically Brazilian, which reinforces many of the arguments I make in my thesis."
 
The Identity of an Artist and Art Historian
Maher's research also helped the graduate student find the words to describe Oiticica's lasting impact on him.
"For me it was really prescient because I had actually just come out as gay a few months earlier," Maher remembered of seeing the exhibition. "Queer visibility where I come from is not really a thing. It was a fascinating time for me because I was relearning about my body and my identity and what it meant to live as myself after growing up in this really large rambunctious Catholic family and this very Catholic environment."
Maher said the exhibition and the artist presented a flexible identity that was contrary to the way he had been raised.
"He was this openly gay man and this exhibition didn't shy away from that," Maher said. "It foregrounded some of the significance of that, his explorations of queer life in Brazil and New York."
Then there was the nature of the art itself, which helped define for Maher what is important about art and art history. At the exhibition, Maher remembered taking off his shoes and walking through a roomful of sand, or rather, walking into Oiticica's most famous work, Tropicália (1967).
"It was the first time I was really able to get into art. It was this radical new thing breaking down these notions of art," Maher said. Art and art history, he explains, often happen in a silo, creating an air of inaccessibility. Oiticica's work, Maher explained, collapsed the dichotomy between viewer and object.
"This reminded me of how important it is to bridge the gap between the art world and the real world."
 
Alternate History: Entering More Deeply into the Chaos of the World
When it came time in the winter of 2019 to choose his thesis topic, Maher realized he needed to step outside his own silo.
"I was becoming aware that a lot of my practice in studying queer contemporary art was really focused on a lot of white, upper-class males," Maher said. "I realized that is such a small fraction of what queer contemporary art is, and also a lot of what defines queer art is indebted to communities of color."
Through translated primary sources—Oiticica was a prolific writer and documentarian of his work—and drawing on theories such as the queer phenomenology of scholar Sara Ahmed and the "disidentification" of José Esteban Muñoz, Maher is zeroing in on the universality of the personal in Oiticica's work, countering the scholarship that places the artist solely in the modernist context of Brazil.
As a touchstone, Maher is using Oiticica's genre of Parangolés, a series which is part performance and part wearable art, with dancers outfitted in festive, bright, and haphazard flowing fabrics, burlaps, and plastics. It was inspired by Oiticica's time spent in the favelas, or shantytowns, of Rio de Janeiro.
"So much of his work is about prioritizing the malleability of identity and a person's experience.
Clearly he wasn't trying to show this Brazilian identity. He was exploring queer identity and his first sexual experiences, which happened in the favelas," Maher said. "He created these spaces where anyone and everyone could exist and feel like they were being spoken to through art. It wasn't an escapist attempt to get away from the world, but rather a way of entering more deeply into the chaos of the world."
Maher will present his thesis this spring, and he is set graduate in June 2020.
Read more below about students, alumni, and faculty in the Department of the History of Art and Architecture.