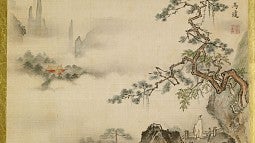 Research and teaching interests of the East Asian art and architecture faculty range from ancient to contemporary, with a particular emphasis on the arts of Japan and China.
Akiko Walley specializes in East Asian Buddhist art, with a particular interest in the role of objects in the initial establishment of the religion in Japan in the seventh to eighth centuries. Walley has additional research and teaching interests in literati painting, East Asian calligraphy, and Japanese works in printed medium from early modern to contemporary periods (including manga).
Charles Lachman researches and teaches the history of Chinese landscape painting, Chinese art theory, and Buddhist art (especially Chan/Zen painting).
Jerome Silbergeld (Professor Emeritus at Princeton University and participating faculty in the UO's History of Art and Architecture department) publications have dealt with such topics as art in times of political upheaval and conditions of intense censorship, the aesthetics of old age, perceptions and misperceptions of historical change, "bad" art and the articulation of the negative, the relationship between architecture and paintings of architecture, regional diversity in Chinese gardens, zoomorphic and anthropomorphic iconographies, and cinema's relationship to the premodern arts of China.
Our East Asian curriculum is characterized by its emphasis on first-hand experience with works of art. In close collaboration with the Jordan Schnitzer Museum of Art, Knight Library Special Collections, Portland art and cultural institutions, local and international galleries and private collectors, we regularly offer courses involving special viewings and exhibition planning. Several of these courses have culminated in art exhibitions and catalogue publications, offering students a wonderful opportunity to augment their research skills with museum curatorial experience.
The University of Oregon is exceptionally strong in East Asian studies. Our students can acquire a holistic understanding of East Asian art, architecture, and visual culture through relevant courses in several departments and programs, including:

Core Faculty
Charles Lachman
Jerome Silbergeld
Akiko Walley