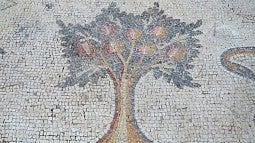 Our curriculum covers all periods of Mediterranean art and architecture, from antiquity (Jeffrey Hurwit, Kristen Seaman), through the Middle Ages (Maile Hutterer), to the Early Modern period (James Harper).
In addition to focusing on specific historical moments and locations, we examine the place of Mediterranean visual and material culture within the broader world. Our global research, teaching, and curatorial activities confront transcultural and transnational aspects of Mediterranean art and architecture, including their interactions with the Americas, Northern Europe, the Middle East, Central Asia, and North Africa.
Our students also benefit from the other robust Mediterranean resources in the College of Design and the broader University. They take related courses in archaeology, culture, history, and language, offered in programs such as African Studies, Arabic Studies, Anthropology, Cinema Studies, Classics, History, Judaic Studies, Medieval Studies, Religious Studies, Romance Languages, and the Yamada Language Center. The University is particularly well-represented in the fields of ancient Mediterranean art and archaeology; faculty experts in this area include Kristen Seaman (History of Art and Architecture), and Kevin Dicus (Classics). Moreover, the Jordan Schnitzer Museum of Art has collections and exhibitions of Mediterranean art, and the Eugene Society of the Archaeological Institute of America sponsors lectures about Mediterranean art, architecture, and archaeology.
Our students and faculty frequently work in museums, at sites, and on excavations throughout the Mediterranean, and they have been scholars in residence at such research centers as the American Academy in Rome, the American School of Classical Studies at Athens, and the Villa I Tatti (The Harvard University Center for Italian Renaissance Studies). In addition, our students have won competitive internships at American museums such as the Getty Villa. The department has longstanding institutional connections with the Mediterranean as well. Most notably, together with the Department of Architecture, we offer a study abroad program in Rome. We also are a Cooperating Institution of the American School of Classical Studies at Athens, which oversees study abroad programs, excavations, and activities that relate to Greek culture from antiquity to the present day.

Core Faculty