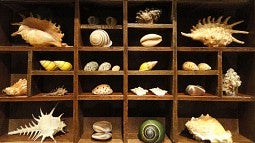 Students interested in museum and curatorial careers will find exceptional faculty mentorship and opportunities for professionalization in the Department of the History of Art and Architecture. Many of our faculty members maintain active curatorial practices as part of their research agendas, spearheading and contributing to projects within Oregon and beyond. Seminars are often offered in conjunction with faculty exhibition initiatives that are mounted locally, which introduce students to the fundamentals of curatorial practice and exhibition design.
Our students have the opportunity to curate exhibitions at the Jordan Schnitzer Museum of Art (JSMA) in collaboration with curatorial staff as well as other museum professionals as part of the JSMA internship program. Students specializing in contemporary art may apply to work with MFA students in the Department of Art throughout the year and write the annual MFA thesis exhibition catalogue. The Portland Art Museum, the UO Museum of Natural and Cultural History, the Marion Dean Ross Collection of rare books in architectural history at the Design Library in Lawrence Hall, and the rare books collection at Knight Library offer additional research and curatorial opportunities in visual and material cultures of interest to our students. Lastly, History of Art and Architecture is home to the graduate certificate in Museum Studies, which combines rigorous research skills with hands-on training to prepare students for the job market in a wide range of museum careers.

Core Faculty
Faculty whose research and teaching interests involve curatorial and museological projects include:
Nina Amstutz: 18th- and 19th-century art
Keith Eggener: art and architecture of the Americas
James Harper: Renaissance and Baroque
Charles Lachman: Chinese art
Akiko Walley: Japanese art
Other faculty, including Maile Hutterer (Medieval art and architecture) and Kristen Seaman (Ancient Mediterranean art and architecture), have worked to secure exhibitions and object loans for student research at the Jordan Schnitzer Museum of Art (JSMA) on the UO campus. Kate Mondloch (Contemporary art and theory) focuses on contemporary art exhibitions and display practices as an object of inquiry in her teaching and research.